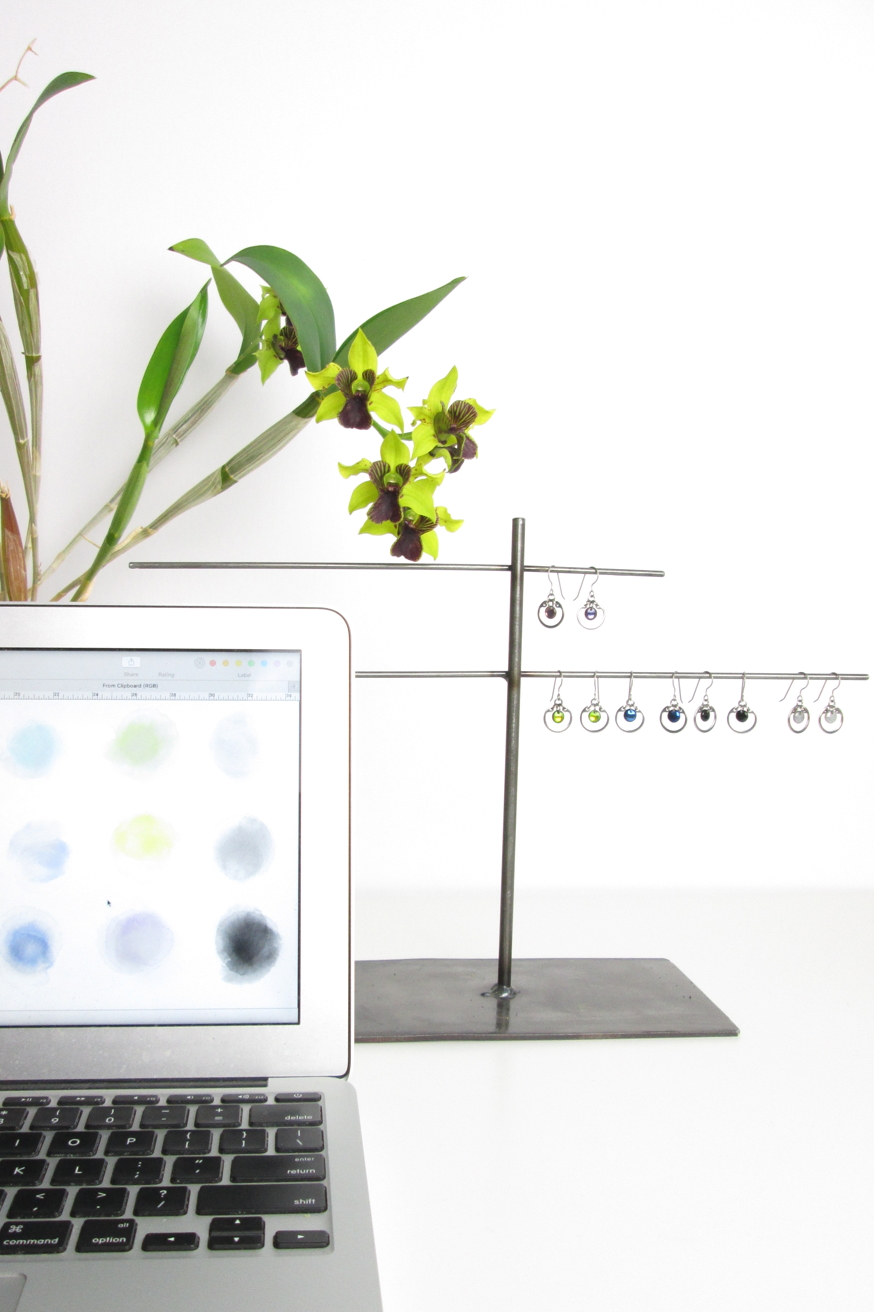 I love having something green and growing in my workspace, and I love growing orchids, with their strange, wonderfully beautiful flowers and traveling air roots. Unfortunately, there isn't enough light to grow orchids well year-round in my studio. Here's how I enjoy them during my work day anyway.
Orchid Dendrobium 'Green Flash' helped inspire a springtime palette, above, and a little creative photography, below.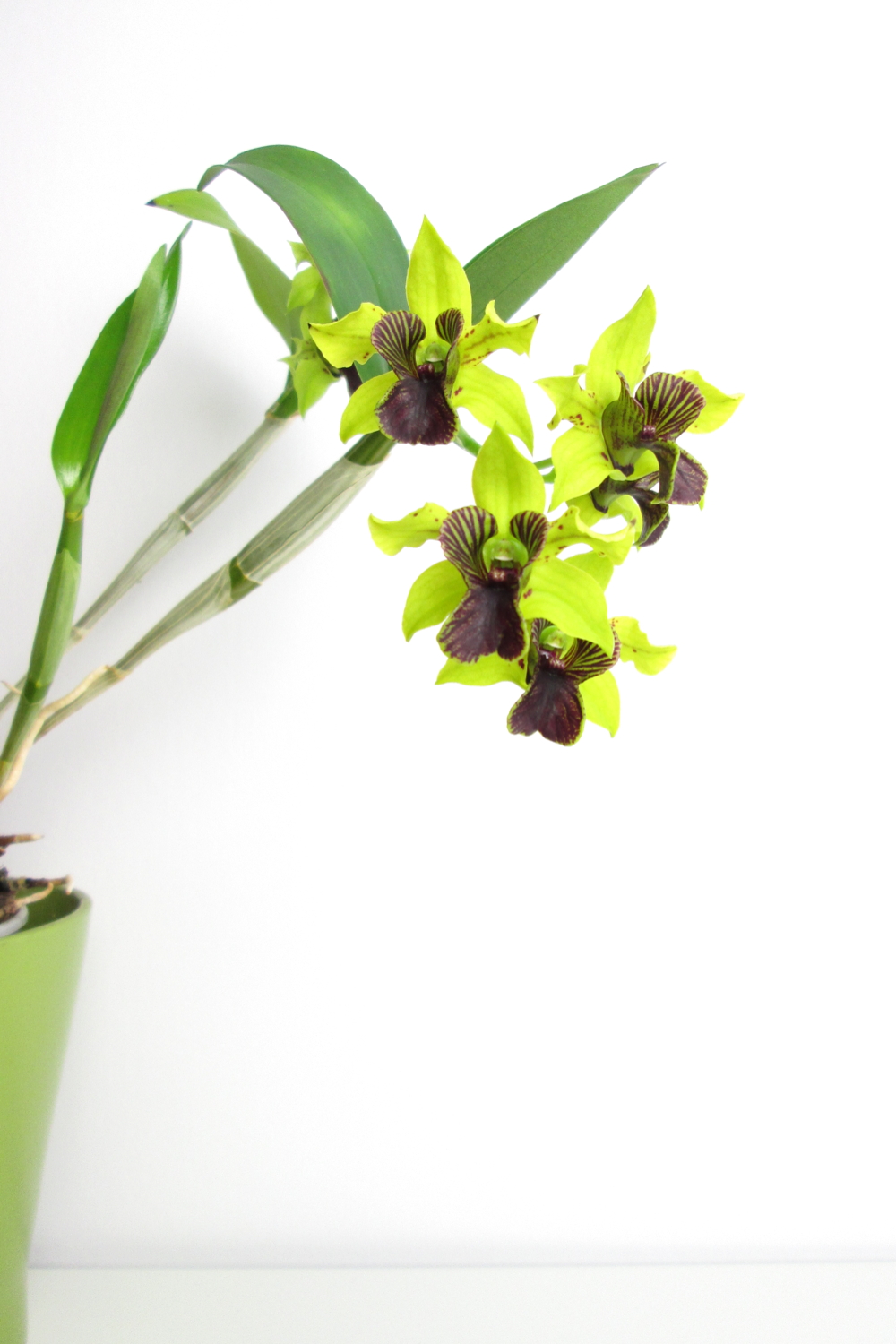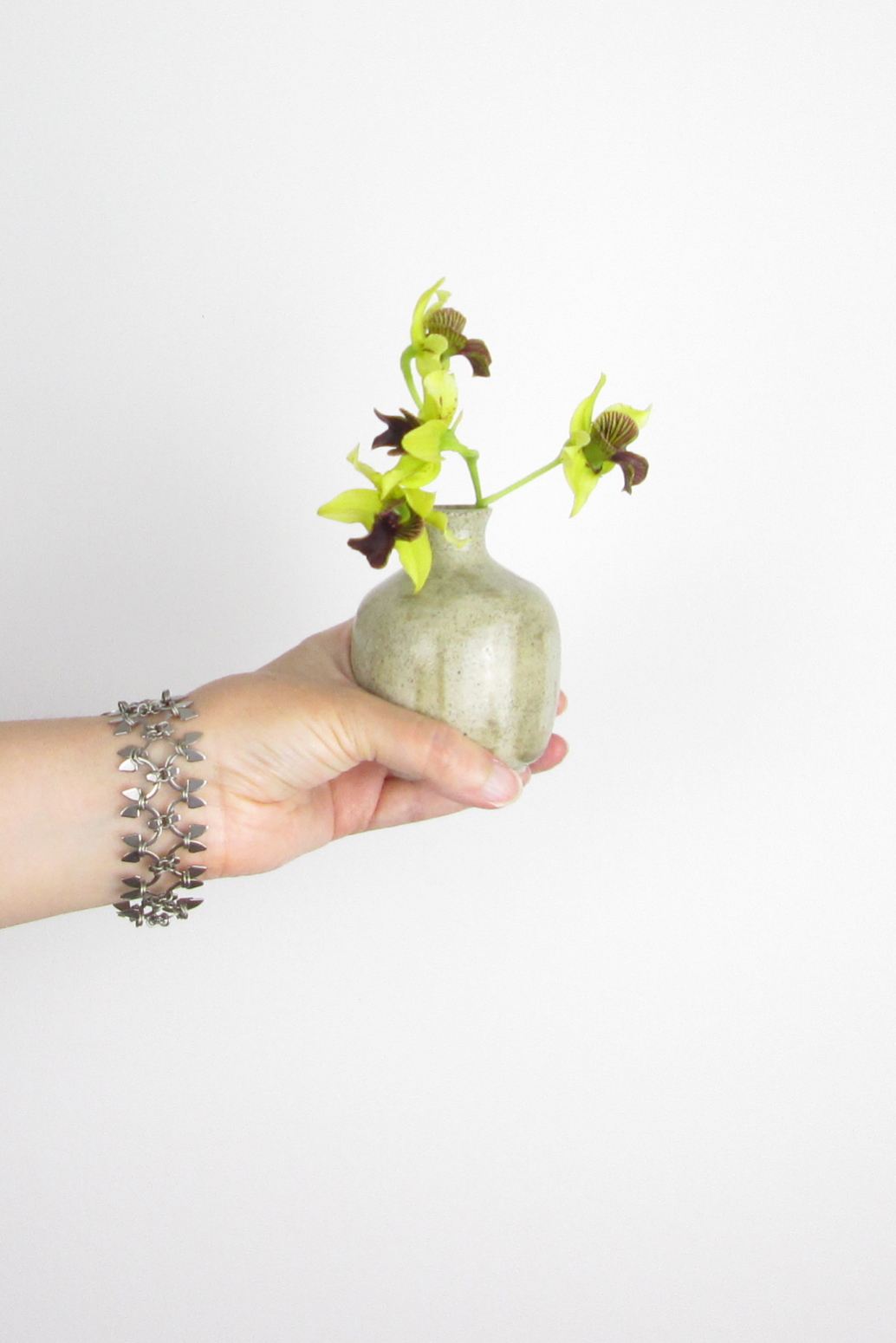 You can enjoy many orchids as cut flowers.
Dendrobium 'Green Flash' blooms frequently and prolifically for me, and its small, green and purple flowers last for a few days in a bud vase. I love the pretty-yet-edgy vibe they bring to these jewelry photos for my Wisteria Bracelet (above) and earrings from the Mechanical Garden collection (below.) Styling them was as simple as picking up my vase of studio flowers! (I love having my inspiration right in front of me!)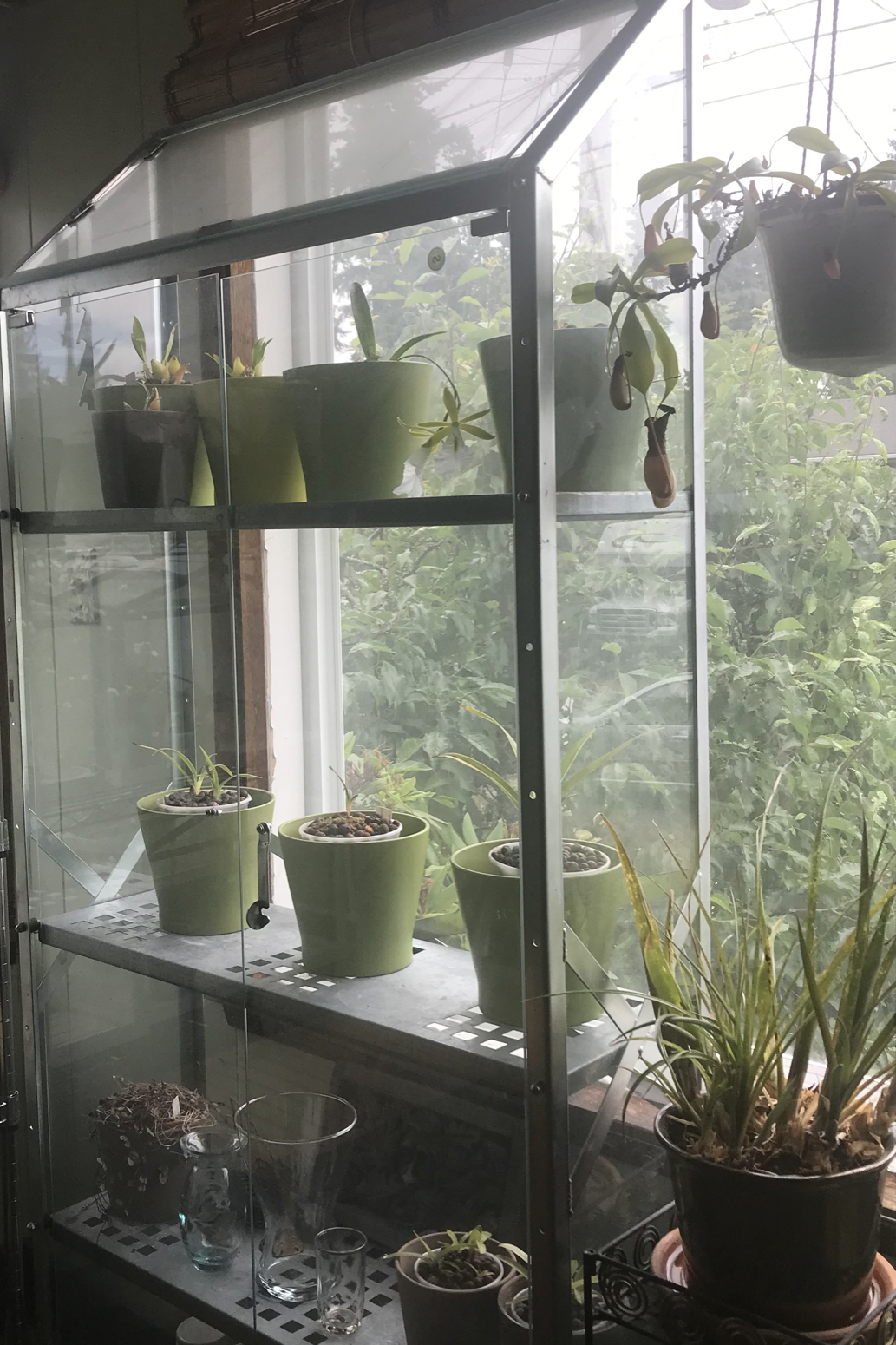 2. You don't have to grow them where you enjoy them.
I have sunny (for Seattle, anyway!) east- and north-facing windows in my entryway that are great for orchids! They live here most of the time, where I get to enjoy their green leaves and pots in passing (and play spot-the-orchid-spike for upcoming blooms.) They're joined by a couple of hoyas (below), and a tropical Nepenthes pitcher plant and Bilbergia nutans (above.) But, I don't spend a lot of time in this spot, so when one comes into bloom, I bring it up to the desk in my studio for a week or so. (Can you spot the blooming Phalaeonopsis and Encyclia mariae here? It would be a shame not to spend time enjoying them closer up, right?)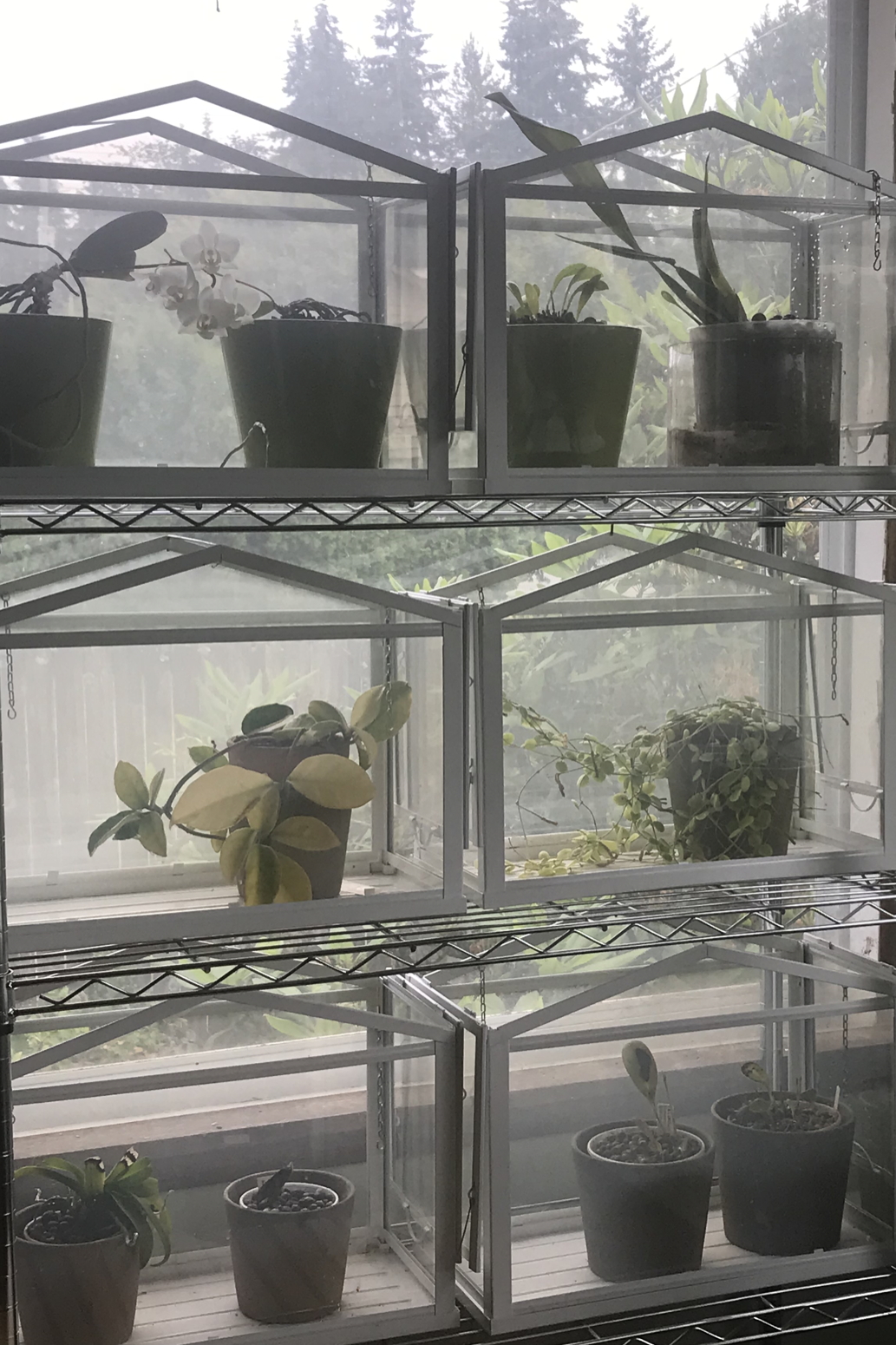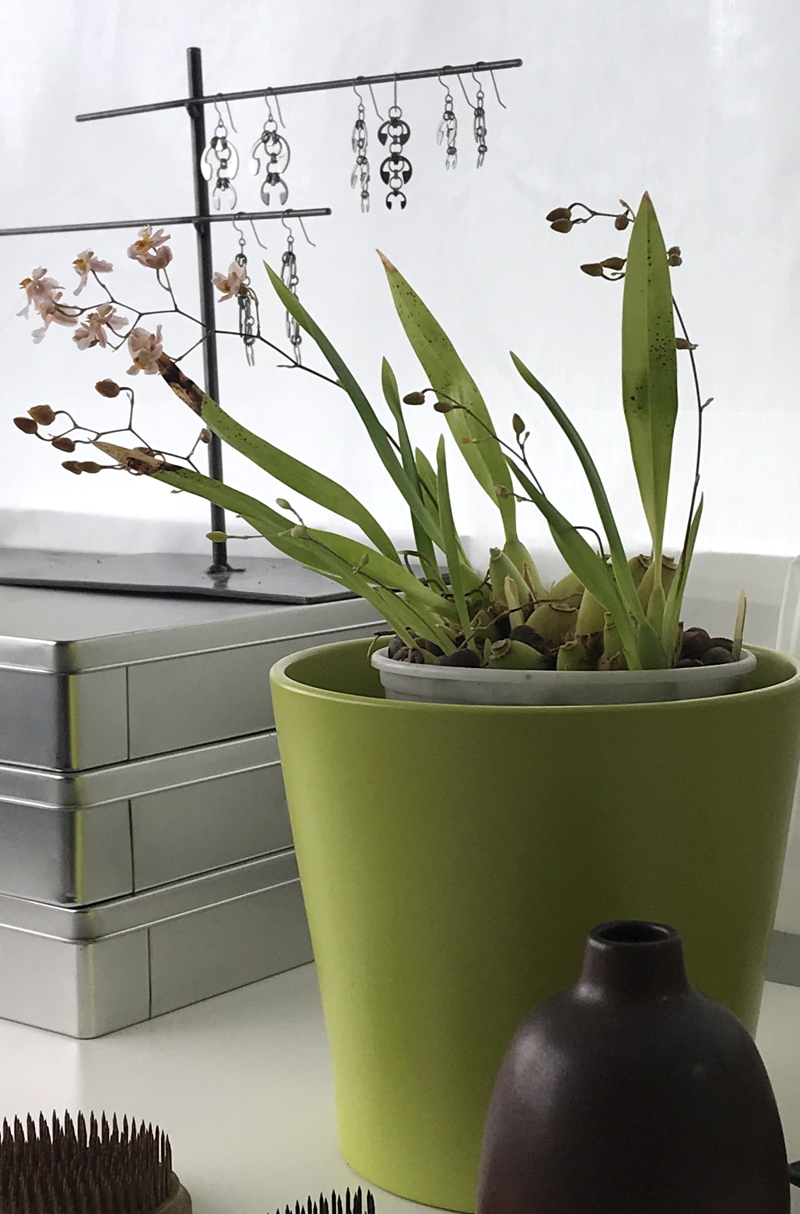 3. Standard-size pots and a designated spot make it easy to place an orchid that's blooming.
If I had to clear a different-sized space every time something bloomed, I'd never bother! Most of my orchids are about the same size, and I use these green Ikea cachepots for almost all of them. (The plastic pots inside have drainage holes, the cachepots don't — so they don't make a mess everywhere when I water them.) A designated spot on the shelf beside my window is ready for them. (Unfortunately, the window looks straight into my neighbor's bathroom, so… Yeah. Curtains it is!)
Above and below: Oncidium 'Tsiku Marguerite' (one of my favs from the Twinkle family!) shows off its green cachepot, and brings a little life into a jewelry photo.
I work in my home studio, but commuters going in to the office might appreciate lightweight standard plastic pots that slide neatly into a beautiful (but heavier) cachepot that stays in the office. (Yes, you can still bring your orchids with you — especially if you spot them as they first begin to spike, when they're shorter and less likely to get a bud knocked off. Treat the pot like a bouquet of flowers — hold it in your lap on the bus, or wedge it securely into place while you drive. And test it first with something less precious, like a Trader Joe's mini phalaeonopsis, before risking a rare orchid's first bloom.)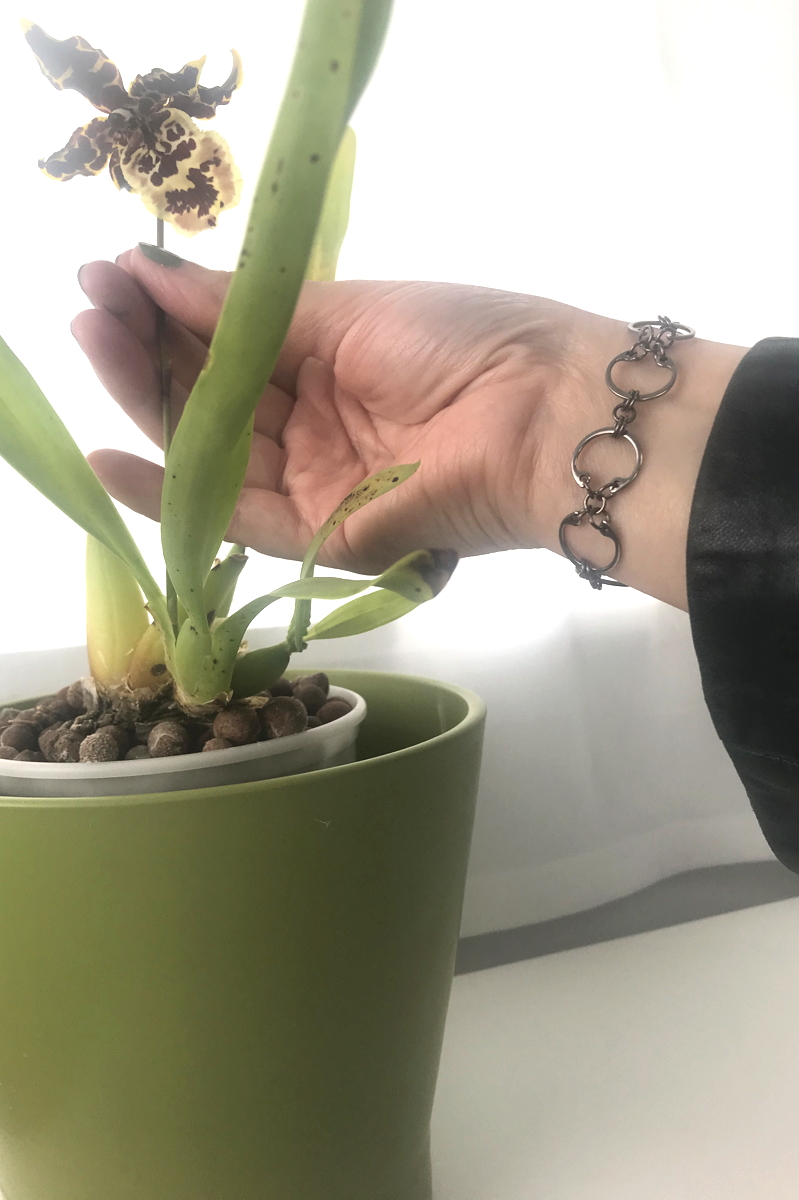 A mystery orchid (some sort of Miltonopsis, maybe?) and a white Phalaenopsis in the same green pot.
Most of the time, my orchids give me a beautiful spot to rest my eyes on a computer screen break or during some creative daydreaming. That's reason enough to bring them in, for me! But they do have other benefits too — like inspiring photo shoots and even new jewelry styles.
Orchid Encyclia mariae (formerly Euchile mariae) blooms every year for me and turns up in my photos — see the Delicate Botanicals collection and many of the earrings from the Mechanical Garden collection.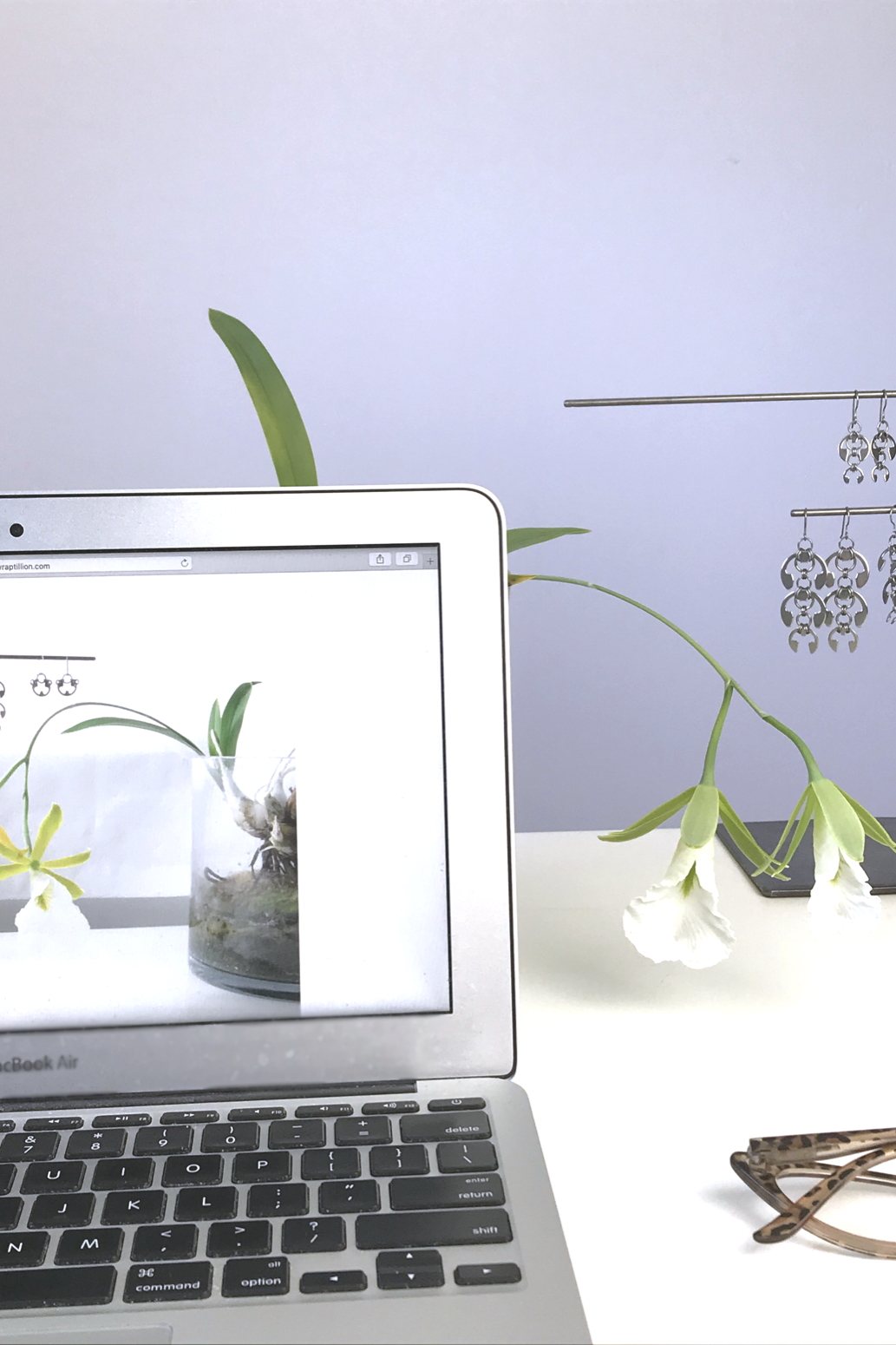 I hope you enjoyed this peek into how I bring a little more life to my workspace! If you'd like to see more, here are more posts about my orchids, and about all of my studio flowers.
Enjoy!