how to display your jewelry in your home, part 1
Whether you're styling a shelfie for some photos or just want the top of your dresser to look beautiful, here are 3 ways to show off your favorite art jewelry pieces as home decor.
1. In a shallow dish.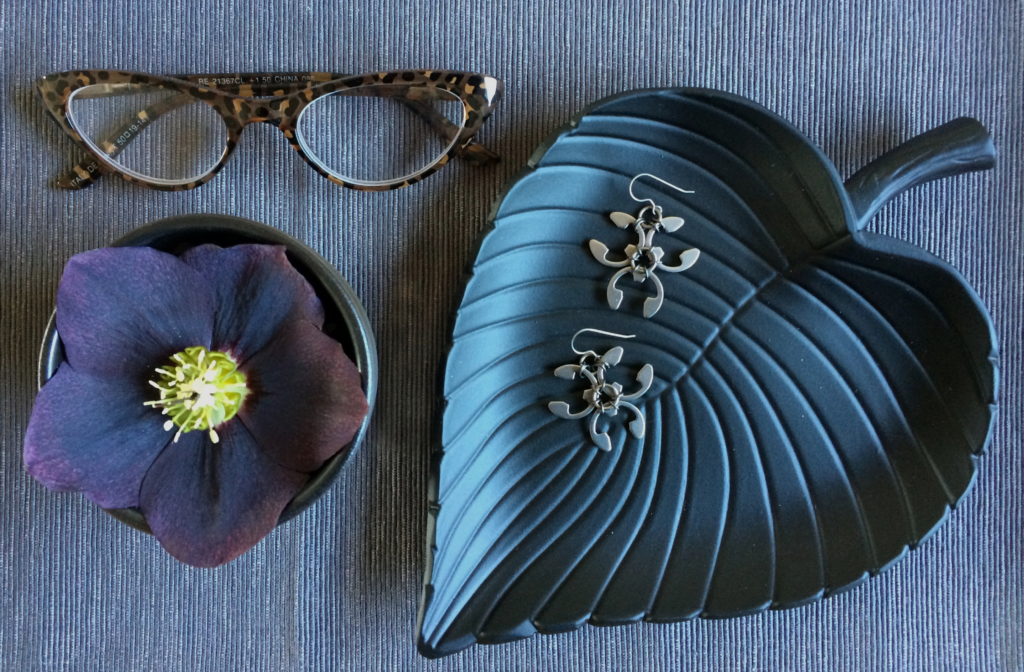 Best if: you want an easy "grab & go" option that still looks great.
A beautiful leaf dish keeps my Trellis earrings safe, so they're easy to find when I'm in a rush. Arranged neatly with my leopard reading glasses and a single dark purple hellebore, this vignette was so pretty I had to take a picture!
Pro tip: Do a quick dust and refresh this area once a week to avoid cluttered neglect. Take a moment to find your reading glasses, swap out your flowers, and decide what jewelry you might want to wear over the next few days. Set yourself up for smooth, easy mornings!
2. On a candle holder, bowl, or other curio.
Best if: you love layered looks and displaying your curios in unexpected ways.
This modern egg shell votive became a temporary earring holder when I needed a safe spot for these Small Concentric Ring earrings, but I loved the look so much it became a spring tradition! With bright spring tulips and a Heath Ceramics container, this was a fun touch of seasonal decor, but you could also choose a year-round objet d'art for your shelfie. A handmade ceramic bowl, empty plant pot, or even your grandmother's crystal coupe glass can add a lovely touch.
Pro tip: If you have a larger collection of jewelry and curios, consider choosing just a few pieces each week or each month to display (and to wear). Let the combinations inspire you — like a capsule collection for your shelf! Or, go out with a maximalist extravaganza, and help each pair of earrings find its curio match!
3. On a small jewelry stand (that fits your decor.)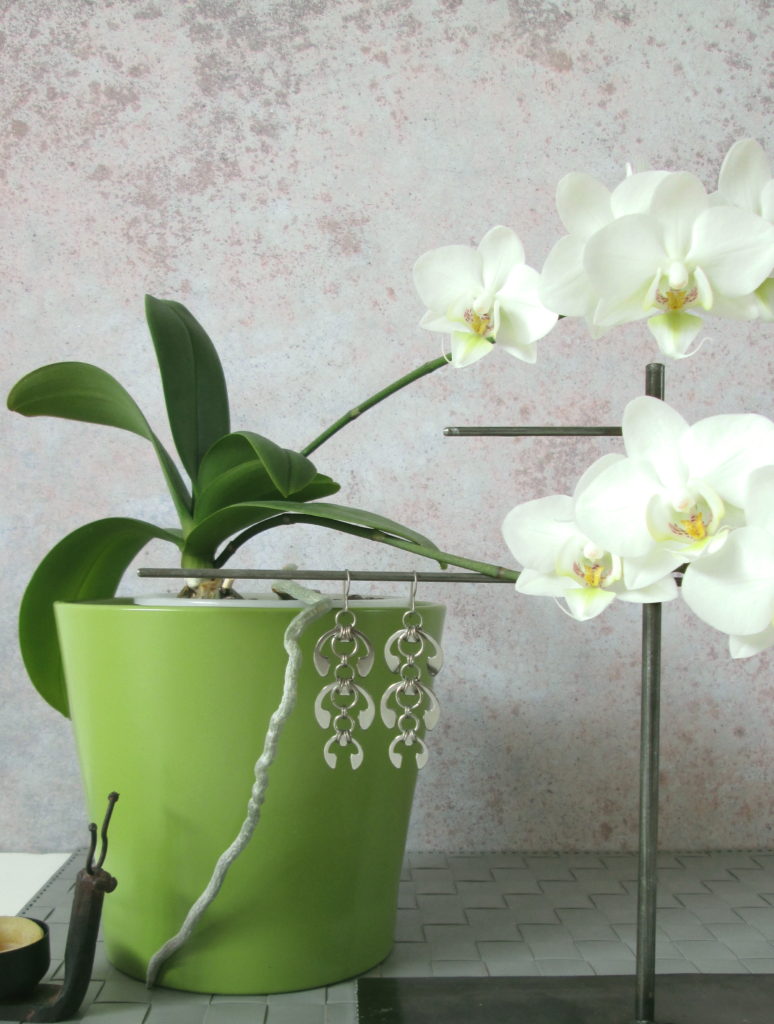 Best if: you want a simple, consistent home for the pieces you wear everyday, and enjoy refreshing the vignette around them.
I love the way this little industrial-style earring holder blends into a scene so seamlessly! Here, it's holding my Laburnum Earrings. It was easy to move this miniature white moth orchid (a Phalaeonopsis) into the scene to enjoy it while it's in bloom. I love how the modern earring design is highlighted against the bright green of the cache pot. A small iron snail tea light holder adds a whimsical touch while still feeling sophisticated.
Pro tip: A dresser scarf, runner, or even a placemat can help protect the surface under potted plants and metal stands. Plus, it makes a nice clean backdrop for your vignette.
I hope these ideas inspire you to find new ways to enjoy your jewelry even when you're not wearing it. Let your own glimpse of beauty bring a little more joy into your day.
Looking for more everyday beauty? See my studio flowers posts to see more of the jewelry vignettes I enjoy in my studio. Or, hunt for a new piece to enjoy in your home!