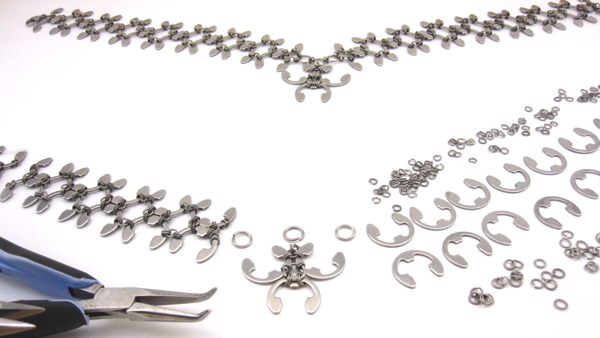 Kelly Jones of Wraptillion
…sees things differently
Kelly Jones handcrafts Wraptillion jewelry to celebrate the beauty of everyday industrial objects. By linking American-manufactured steel hardware with titanium, she creates lightweight, striking jewelry that never needs polishing. Every piece made in her studio near Seattle, Washington is designed to show your edge and fit your life.
To look behind-the-scenes, sign up for Wraptillion's email newsletter!
Hardware:
Wraptillion jewelry is made from steel engineering components that are manufactured in the U.S. These components are used in automotive transmissions, jet hydraulics, bike pedals, jewelry tumblers, and many more applications. You might even find them in your printer or desk chair!
Stainless steel hardware and titanium are incredibly lightweight and never tarnish.
All Wraptillion ear wires are titanium — a metal so hypoallergenic it's used in replacement knees and other medical implants.
Wraptillion jewelry is easy to care for and durable enough to last for generations, and is made from recyclable metals.
Looking for jewelry made from car parts, airplane parts, or bike parts for your store? Email info@wraptillion.com to request a wholesale catalog!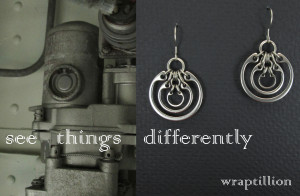 top image, jewelry tumbler with stainless steel & titanium Laburnum Earrings
bottom image, Boeing 727 hydraulics valve at The Museum of Flight Restoration Center with stainless steel & titanium Concentric Ring Earrings (small vers.)
Artist's Statement:
I created Wraptillion from a childhood of stringing macaroni beads and building crystal radios. When I found a bin of retaining rings in an electronics supply warehouse, I was fascinated by the patterns I could see in the shapes. Years later, I had the skill to make those visions wearable, the intersection of art, craft, and engineering.
To form Wraptillion jewelry, I link American-manufactured steel hardware with titanium, using traditional chainmaille techniques. Though industrial in style, I handcraft each piece using low-tech hand tools. Each piece is held together by tensioning different dimensions and gauges of titanium links, to form articulated jewelry that conforms to the body while still holding its shape. Using steel and titanium allows me to create lightweight pieces that are dramatic but comfortable. Using unadorned hardware lets me surprise and delight anyone who recognizes the beauty of these components.
Questions? Contact Kelly Jones at info@wraptillion.com
Little-known fact: Kelly Jones is also an author for young people, published by Knopf Books for Young Readers! Learn more at curiosityjones.net or on Twitter @curiosityjones.

Save
Save
Save