Wholesale Buyers ~
Interested in carrying Wraptillion jewelry in your shop?
Email me at info@wraptillion.com to request a wholesale catalog of Wraptillion jewelry. Let me know if you prefer PDF, print, or both.
Have a password? Click here to download the 2020 wholesale catalogs.
Minimum first time order is $300.
Interested in an exclusive custom design for your store? Click here to learn more!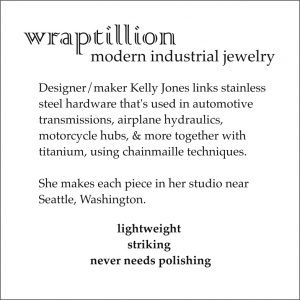 Every order ships with high quality artist cards. Include one in your display to help customers see what's so special about Wraptillion jewelry.
Is there something else that would help you display and sell Wraptillion jewelry? Let me know at info@wraptillion.com!
Save
Save
Save
Save
Save
Save
Save
Save
Save
Save
Save
Save
Save