This week's studio flowers are fragrant: I'm enjoying the Choisya ternata (Mexican Orange Blossom) now, while I wait for the forced narcissus (paperwhites) that are slowly growing for later this winter. (Shown with the Trellis Earrings, Garland Earrings, Rose Window Earrings, and Garland Bracelet I'm working on today.) It's such a beautiful vignette — I love seeing the dark green leaves, white flowers, and dark rocks when I look up from my desk. So worth the few minutes it took me to create it!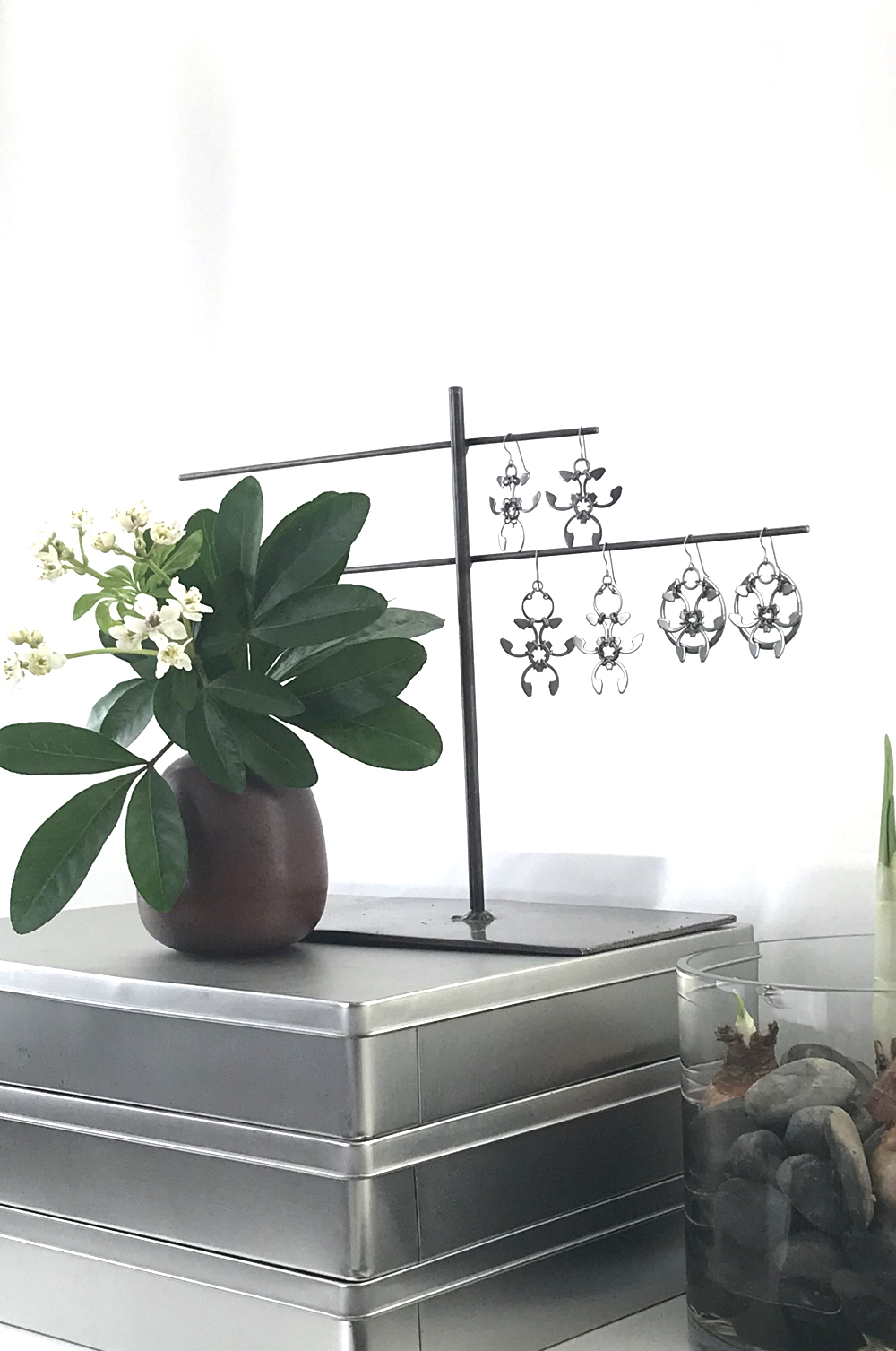 The choisya has a sweet, slightly tart scent that does remind me of orange blossom. It can be tender in my garden near Seattle; I don't often get winter flowers from it, so these feel special, despite being a little bug-eaten. I love their gorgeous green leaves, too.
These are the same paperwhites I started a couple weeks ago. They spent some time in the dark (you might spot them at the bottom of my greenhouse shelves here.) Now that they have roots, I've brought them out into the light to grow. This glass bowl with its few narcissus bulbs will scent an entire room easily. (I grow them in glass and rocks because I love watching the roots.)
Choisya, shown with the Trellis Earrings, Garland Earrings, and Rose Window Earrings, from my Mechanical Garden collection.
It can be hard to visualize how my earrings compare to each other — is that design bigger or smaller than this one? I'm working on a series of photos to better illustrate that. And why not include some beautiful flowers along with them? This is the Mechanical Garden collection, after all!
If you enjoyed this glimpse into my studio, you can see more of my studio flowers posts here.
I hope you pick a few flowers or leaves, however worse for the winter, and create your own moment of beauty!